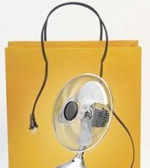 Not sure if the shopping bags below are real or just products of some creative designers with lots of free time on their hands, but the designs are very well executed and pretty funny. Want something to get that creativity juice flowing again, maybe these can help. Thanks a reader for this interesting collection and submission!
Where design ideas meet illusion and… bags …
Give me your hand! (Literally…)
This kind of design layout probably works best because the bag doesn't have to be hold in certain position to be funny – like some of the other ones below. Read more...