Get your business on Google Places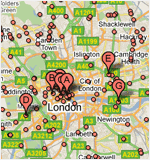 In the previous post Has Your Website Search Ranking Dropped Lately? we briefly mentioned search localization emphasizing the fact that today's search engines tend to give more priority to local search results over general search results. A search term like "London pizza" on Google UK will give pizza restaurants based in London more priority over the rest as Google displays a map with highlighted London-based pizza stores at the top of the search results. To take advantages of this change and trend in search, you can and should list or claim your business with Google Places.
If Google Places has already had your business information in its database, you'll need to claim your listing. If it has not, you'll need to add your business info. Either way, you'll benefit from getting your business listed on Google Places – Google Local Business listing.
Google Places Benefits
Your business can be listed in Google local business directory and displayed from or for local searches
You can manage your listing information including adding business description, product/service details, photos, videos, etc. You can even add special promotions and coupons to attract more customers and add a status post of 160 characters long, which can be updated as often as you want, to let people know what's going on with your business.





You can get insight about your listing traffic such as how many times your listing shows up in search and how many times people click for more info
You can direct your customers to your Google Places profile to leave comments about your business, and even better, you can respond to what other people got to say about your products/services, especially respond to negative feedback
The list of benefits will probably get longer and longer as Google improves its technology and responds to users' feedback and changes from its competitors.
Claiming/Adding Your Business to Google Places
If you've already used gmail, your next step to claiming your business from Google Places or adding your business to Google Places will be visiting http://google.com/places and following the steps as instructed. If you haven't used gmail, you'd need to open a gmail account and then go to Google Places site.
Google also has lots of support articles and support forum to answer your questions.
Things to remember while adding/claiming your business with Google Places
Choose your first/main category carefully. For the first category, you must select from a [long] pre-populated list that Google provides, so spend a little more time to see what category is best suited for your business. This is very important as it'll help Google decides whether or not to display your business for certain search keywords.
After you have selected your first category, you can add four more categories. You can use the categories Google provides or create the category names yourself. Whatever you decide to do, you should list all five categories.
Add photos and additional information such as product names, descriptions, and all other information that you think can better market your products/services
Again, hope this is useful!
Related Posts: