Cross-reference between MS Office 2003 and MS Office 2010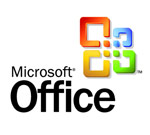 As a long time MS Office 2003 user – since 2003, switching to MS Office 2010 was not an easy ride because almost all the 2003 menus are changed in the 2010 version. Even the term "menu" was changed to "ribbon" in 2010. The good thing is Microsoft understood the confusion and created a reference between Office 2003 to Office 2010. The reference can be viewed online as an interactive application [with Microsoft Silverlight] or downloaded for offline use as MS Excel spreadsheets. You can find the links to the reference library at the end of this post. However, before going there, there are some tips I want to share first. Hopefully, you'll find them useful.
Right-clicks and short-cuts
That's right. Those were your friends in the past and continue to be your even closer friends now. Menus were re-arranged, but the default short-cuts, at least the common ones, remain the same. Use them and you don't have to find your way through the ribbons.
Customized ribbon
MS Office 2010 lets you create your own custom ribbon. It should be the same across all MS applications; to create a custom ribbon, go to File > Options > Customize Ribbon > Click on New Tab button on the right panel to create your own ribbon. After that, just drag and drop your favorite items from the left panel to the right panel under your new tab. Click OK and the custom ribbon will be displayed at the top together with other default ribbons. This will give you easy access to your most commonly used functionality.
2003 Menu to 2010 Ribbon Reference – Spreadsheet
Click here to go the whole reference library on the Microsoft website. Find the application you want and click on it. You'll eventually have the download link that lets you download the reference spreadsheet. Below are the links I used a lot for your reference and convenience.
MS Office interactive menu to ribbon guide
If you want to experience the interactive guide with Silverlight, here is the link. Again, you'd need to install MS Silverlight first.
Related Posts: