Google Update, Search Engine Over-Optimization, Consequences and Remedies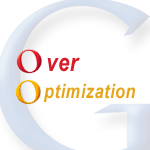 There have been so many changes in Google search algorithm since the last time I wrote this article "Has Your Site Ranking Dropped Lately, which primarily discussed the changes in Google algorithm and their impact on site ranking. The two most talked about and most recent changes in Google's search algorithm are Google Panda and Google Penguin; both changes aimed to lower the ranking of (or to penalize, the way we talked about it) websites with low quality content or sites that don't comply with the Google's webmaster guidelines.
If you haven't done any search engine optimization (SEO) work and just now start to think about it, or want to revise your SEO strategy, my advise is not to over-optimize and and use black hat SEO techniques and defy Google's and other search engines' intelligence.
Google Panda and Google Penguin – What are they?
Google Panda, started in February 2011, is a change to Google's search ranking algorithm. Panda's main objective is to lower the search ranking of sites with low quality content, especially content farms, while increase ranking of sites with higher quality and more original content.

Google Penguin, introduced recently in April 2012, is another major change to Google's ranking algorithm. Continuing and expanding from the Panda update, Penguin aims to lower search engine ranking of websites using black-hat SEO techniques including keyword stuffing, hidden text, participating in link schemes, or using duplicate content etc. In short, Panda update will affect websites that violate the Google's Webmaster Guidelines.
Over-optimization with Black- and Gray-Hat SEO Techniques
If you or your SEO consultants, web developers/agencies have been using or are tempting to try the black hat techniques – some are mentioned below, think again as you are doing more bad than good to your site (and thus your business) in the long run. Your site may be downgraded or even blacklisted by search engines, and once that happens, it takes a lot more time and effort to remedy the situation and bring your site back to the normal ranking position that it deserves.
Some common techniques that you should avoid include meta-tag stuffing and keyword spamming, using hidden text, buying links or participating in link schemes and deliberately using duplicate content. If you hire external consultants/agencies to do the SEO works, be sure to grasp the followings and make sure they're not using any of those techniques, as there are consequences. There are more black-hat SEO techniques, and more sophisticated ones as seen on Wikipedia, the ones I touched in this post are easier to do, thus have been adopted more commonly.
Consequences
Many sites were negatively affected or penalized (in terms of Google's search result ranking) for violating the Google Webmaster guidelines. The two most prominent examples are the cases of JCPenney and Overtock.com, that were all over the news last year. Both websites were involved in paying other sites to link to theirs. This was spotted by Google, and you can guess the rest of the story.
Google Reconsideration Request
Here's what you can and should do if your site was removed from Google's search results: take a close look at the Webmaster Guidelines and follow the instructions in there to make changes accordingly. When you're sure that all the necessary changes have been made, submit your site to Google for reconsideration.
Some Final Thoughts
Search Engine Optimization used to be complex with techniques, tricks and terminologies in the past. Today, with recent changes in search algorithm, the thing that you should "optimize" the most is to create good and original content for your readers. Good content is always king. You may disagree with me here, but having good content alone – without additional SEO knowledge – counts for more than 90% of your SEO effort.
As a web person, you should look at SEO from the users' perspective: if you don't want to see sites with poor quality content showing in search results, don't turn your site into one. The golden rule is correct here: do unto the others (web readers) as you wish to be done.
If you (choose to) do something wrong, do it right! I don't mean to encourage you to use any of the above black- or gray-hat techniques. However, sometimes we have to do things we don't like; in such cases, try to do them right. For example, if your business has a link building strategy that is similar to the link scheme mentioned above – try to link to only sites/pages with good related content so that your web audience can get the most out of what you presented and search engines won't mistake you for a spam site. If you have to use duplicate content throughout your site, try to apply canonicalization, to let search engines know where the original content is.
Related Posts: