Possible reasons why your website search ranking changes over time or even overnight.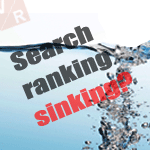 Search engine algorithm
Times change, people change and so does search engine algorithm. If algorithm sounds like a big word to you, as it does to me, then consider it as a giant set of complex [mathematic] formula that search engines like Google, Yahoo! or Bing develop to decide which websites are more relevant to what people search, thus will be displayed at the top, compared to all the sites indexed in their database.
If your website suddenly disappears from search results for certain keywords that it used to rank very well, chances are your site suffers from changes in search algorithm. According to a VP in charge of search quality at Google, there had been about 450 to 500 improvements or updates to the algorithm a year in the past years. The ultimate purpose is to improve the relevancy of search results. Thus, any of those 450-500 changes can easily change your website ranking.
Relevancy, relevancy and relevancy
I emphasize the term relevancy as it's the core of how search engines work; this was true in the past and becomes even more true today. A good example for the algorithm change is the fact that major search engines are ignoring the meta keywords – whatever you put or try to squeeze in your meta tag keywords doesn't really matter anymore. A few years back, you'd see that keywords meta tag was an important area that could seriously affect your search ranking. However, because people have gotten really smart [or the opposite?] about this and tried to add too many unrelated/irrelevant keywords that had nothing to do with the rest of the site content, major search engines decided to totally ignore this meta content. This link will take you the page that Matt Cutts, a Google lead engineer, officially announced Google doesn't use the keywords meta tag in web search in 2009.
Localization, personalization and much more
To improve relevancy , search and search results have become more and more personalized and localized. You can run a few simple tests with Google to see this. For example, if you are in San Jose, California and search for "pizza san jose," what you will likely see first is the information from Google Places including a Google map with a list of pizza stores in or near San Jose, CA labelled A, B, C… in red. This is a clear example of localization; Google gives more priority to local listings – in this case pizza stores – compared to general listings.
How about personalization? Continue with the example about the search for pizza stores. If in the past, you've performed the same search and/or browsed www.abcpizza.com a few times using the same computer/network you're using now, you'll likely see www.abcpizza.com show up at the top of the search results. Your friend, who's never visited www.abcpizza.com, on the other hand, may see a different set of search results on his computer. This is refered to as Google's personalized search results, and things may get really complicated from here when you try to do search engine optimization for your website because the perception/definition of ranking or high ranking has been changed: high ranking when you do a search or when I do a search, and whether it's possible to have high ranking when we both do the same search using different networks or in different locations. A couple of times I thought that visibleranking.com ranks really high for certain keywords; sadly enough :), as you may already know, it's not the case; Google just displays my website at the top for me because I visit it regularly.
Google has been personalizing the search results based on your recent search engine queries; Yahoo! and Bing are believed to do the same thing if not done so already, so what's next?
Admist all the changes in search algorithm, the items mentioned in my other post about Simple Ways to Increase Website Traffic & Search Ranking have stood the test of time. If your website just got vanished in search results, you may want to re-evaluate the keywords you chose to optimized in the past; re-evaluate whether or not your website should become less ambitious and target only certain geo-related keywords such as pizza store in San Jose instead of shooting long range for pizza store; review your website content to see if your selected keywords were properly used through the site from the title, to the heading and the rest of the text content; and last but not least, review your coding to see if the title tags, heading tags and so on have been put to best use.
If you want to solve the search ranking drop issue a bit more systematically, this related post may be helpful. Although it doesn't show you how to tackle the problem directly, you can still use the technique and solve your own problem. Read more about What to Do When Your Website Traffic Dropped.
Again, hope this is useful!
Related Posts: