Make your website more search engine friendly and enhance its traffic and visibility.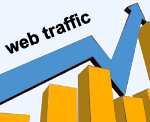 Already knew about how search engines work, here are some simple but fundamental ways to increase your website traffic and its visibility.
Just because your site was indexed doesn't mean it's visible
The bad news: Web spiders have the capability to crawl and index all pages within your website, and depending on the complexity of your site architecture/layout, they may miss some or many pages of your site, or sometimes your entire site. The worse new: your site may get read and indexed by search engines, but it may not appear in search results – not visible at all.
The main idea about increasing your site traffic and making your website more visible is to provide both your readers and search engines what they want.
Readers and spiders
Although readers and (search engine) spiders are fundamentally different – humans and machines, they have something in common while searching online: they both prefer websites with good and quality content, easy to navigate and easy to find more content. Thus, regardless of all the tips and tricks you know about SEO (search engine optimization) here and elsewhere, if you don't have good content, your site will be unlikely visible. The tips mentioned below will serve as the guideline helping you making your content stronger and better in the eye of search engines.
Search engines and text content
Search engines basically compare the TEXT [search terms, keywords, key terms] that users put in the search box against their database and give out search results. Thus, text content of your site is where you need to work on to increase your web traffic significantly. Plus, it is completely within your control, so it's where you can start first and should spend most time on.
Notes: search engines can't read text that's embedded on an image because that type of text is not text – you can't drag and select it. Text inside Flash can now be read and indexed to a certain extent but very poorly compared to html text.
Text content that can be and should be optimized for search engines
Domain name – Domain name that contains keyword is better than the ones without


File name – File name that has keywords may do better than the ones with only abbreviations. For example, increase-web-traffic.html would be technically and theoretically better than iwt.html. File names include .html files, text files, image files…. In brief, whatever you put on the web and want them to be well-indexed and appear in search, name them properly with keywords and key terms.


Page title: Page title that has keywords weighs a whole lot more in search engines because the title is supposed to let readers know what your page and your site is about. Therefore, search engines always search for keywords in the title and largely decide whether to display your site in search results. Page title stands between the <TITILE></TITILE> tag.


Body/main text content:
Font style/size make a difference: Just like in print, bold, italic, and large heading text like <H1></H1>, <H2></H2> differentiate important content from the rest. Your readers notice that, and thus search engines will notice that, too, so use font style properly, and sparingly if you can.
Keyword density counts a lot: Keyword density = how many times a certain keyword appear/repeat on the page. Keyword/key terms include the terms itself and its synonyms, even abbreviations. Although it's important to use the targetted keywords repeatedly, don't overdo it as you may be seen as spamming keywords, and that's not a good.


Links/Link Anchor Text:
Outbound links: links from your page to other web pages. Many are not aware or forget that relevant outbound links will help your site, too. Putting relevant and quality outbound links on your pages is like citing additional references/resources on your research paper. It helps increase the credibility and resourcefulness of your site, and search engines like that.

Inbound links: links from other web pages to your page. Also, what words are used in the link? Having a lot of relevant inbound links = many people find your page/site useful or interesting, and search engines will use this as an important factor to rank your site. Remember, relevancy is also very important.

Internal links: links from within your site among your pages. Internal links help your readers and search engines get more information on the related topic. It's a good practice to have your pages, especially the ones at a deeper level, picked up and indexed by search engines.


Page meta information: Although META TAGS such as <meta name="description" content="" /> and <meta name="keywords" content="" /> weigh less and less compared to years ago, they're also part of the text content that should be optimized with relevant keywords and content.


Search engines and localization
If your website is for your business, and your business has a physical address/location, another way to help increase your site traffic and search ranking is to register your site with local business directories such as Google Places, Yelp!, or Bing and the like. Chances are your website/business will be listed on the Google map at the top when the search term people use has the location in it such as web designer in London or web consulting in New York.
Related Posts: