Already had a SWOT analysis for your overall marketing plan and strategy, have you ever done a SWOT analysis for your website?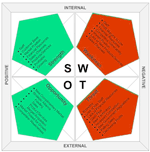 It's that time of the year that I need to do a SWOT analysis for my company's websites, so maybe it 's also time for you to start thinking about renewing or starting a SWOT analysis for your website / online marketing if you haven't got one yet. The SWOT analysis for your website can be integrated into your overall SWOT analysis; however, it may be better to be separated.
SWOT analysis
If you're in marketing, I don't need to talk much about SWOT analysis because it's very likely that your knowledge is much better than mine. However, to put everyone on the same page, briefly, SWOT analysis is a marketing tool used in the strategic planning process that helps you uncover your Strengths, Weaknesses, Opportunities and Threats. The tool asks you to specify your business goals/objectives and identify the internal and external factors that are favorable or unfavorable to obtaining those goals/objectives.
Many marketing professionals nowadays think that SWOT analysis is kind of outdated and too broad to be effective. From a personal perspective, I think SWOT analysis is a good if not excellent start for your online marketing / website analysis.
Website SWOT analysis
You can use your knowledge and experience in doing the overall SWOT analysis to prepare your website SWOT analysis.
Below are some suggestions and reminders for your reference. No matter how you do it, the bottom line I think is that at the end, you should know what are your SWOT elements. More importantly, you should know how to use and maximize your Strengths, minimize or even eliminate your Weaknesses, make the most use of your Opportunities, and defend against your Threats to achieve your goals effectively and efficiently.
Setting goal(s): As always, start your SWOT analysis with setting your website / online marketing goals, which of course must be in line with your business overall mission and goals. SWOT by itself doesn't mean a lot; the analysis should be done within the framework of setting and achieving goals. Goals should be specific and measurable like increasing profit for the year by 5%; decreasing shopping cart dropping rate by 7%; increasing click through rate by 10% or increasing viewers' loyalty and time on site by 4% etc. Goals should be measurable so that you'll be able to see how well your organization is doing against your goals by the end of the period.


Identifying your website strengths: Internal assets [both tangible and intangible] that help you obtain your goals more easily — high ranking in major search engines for certain strategic keywords; high traffic from both new and repeated visitors; excellent content with a useful blog; very user-friendly with easy navigation, high security, easy shopping cart and payment methods; great web design with proper look and feel…


Uncovering your website weaknesses: Internal factors that prevent you from achieving your goals — usually the opposites of your strengths plus some other things that are specific to your website and business


Identifying your opportunities: External elements that are outside of your control and favorable to you in achieving your goals — web 2.0 trend with an emphasis on social networking and multimedia/video integration; web for mobile phones; more attention to web standard and web accessibility; increasing online transactions and e-commerce; faster connection speed; more online application providers; more affiliate marketing opportunities…


Uncovering your threats: External forces that are also beyond your control and may prevent you from reaching your goals — the opposites of your opportunities plus some other things that are more applicable to your situation such as software piracy; government regulation and censorship; the popularity of mobile and hand-held devices; the appearance of more and more free online softwares / applications; low degree of difficulty for new competitors to enter into your industry/business line; your business has become more and more dependent on certain suppliers/vendors; search algorithm changes that may affect your site organic ranking…
Want more information about SWOT analysis? Go to Wikipedia.

Again, good, bad or just so so, let me know what you think.
Related Posts: