PowerPoint 2010 won't print with comments. Any possible workaround?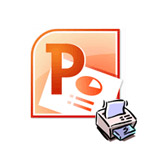 Microsoft Office is not my favorite subject, but since switching to MS 2010, I've written several posts about it as many issues have arisen. The latest issue I encountered was that I couldn't print some PowerPoint 2010 slide decks no matter what I tried. After hours of looking into the problem, here's what I found.
You can't print PowerPoint 2010 slides with comment(s)
It's like a bug in PPT 2010 as I saw many people posting the same complaint about the issue, but there was no clear solutions. You can't print PowerPoint 2010 slides while there's or are comments inside the file; even if it's the only one comment located on the last slide.
Possible workarounds
Update printer driver
I heard in some cases, the problem is resolved after the printer driver got updated to the latest version. This also depends on what printer you're using. This didn't work for me.
Print without comments
Remove the comments and your file will print just fine. If it still doesn't print for you, or if you want to keep the comments in the PPT file but want to print the file without the comments displayed, try the following: