Possible reasons why your website search ranking changes over time or even overnight.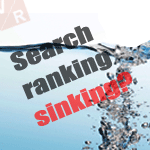 This post was originally posted several years ago and was last updated in 2017.
Search engine algorithm
Times change, people change and so does search engine algorithm. If algorithm sounds like a big word to you, as it does to me, then consider it as a giant set of complex [mathematic] formula that search engines like Google, Yahoo! or Bing develop to decide which websites are more relevant to what people search, thus will be displayed at the top, compared to all the sites indexed in their database. Read more...