Create custom colors and apply them to charts and everything else
with Excel 2010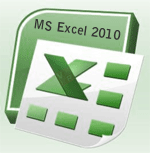 My company has just switched from Microsoft Office 2003 to MS Office 2010, and to my surprise, almost everything in the main menu of MS Excel was changed in 2010 version. That makes everything seem harder and more importantly makes my other post MS Excel 2003 Custom Colors outdated although it's still valid and useful for those who are still using MS Excel 2003.
Here's the update for MS Excel 2010:
Excel 2010 provides a bunch of built-in color palettes, but you can also create a custom palette from scratch and then apply your new color scheme to charts, tables or whatever automatically. The process only take minutes but would save you lots of time later on, and it's one of the things that possibly makes Excel 2010 more… bearable.