Already had a SWOT analysis for your overall marketing plan and strategy, have you ever done a SWOT analysis for your website?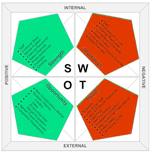 It's that time of the year that I need to do a SWOT analysis for my company's websites, so maybe it 's also time for you to start thinking about renewing or starting a SWOT analysis for your website / online marketing if you haven't got one yet. The SWOT analysis for your website can be integrated into your overall SWOT analysis; however, it may be better to be separated.
SWOT analysis
If you're in marketing, I don't need to talk much about SWOT analysis because it's very likely that your knowledge is much better than mine. However, to put everyone on the same page, briefly, SWOT analysis is a marketing tool used in the strategic planning process that helps you uncover your Strengths, Weaknesses, Opportunities and Threats. The tool asks you to specify your business goals/objectives and identify the internal and external factors that are favorable or unfavorable to obtaining those goals/objectives.
Many marketing professionals nowadays think that SWOT analysis is kind of outdated and too broad to be effective. From a personal perspective, I think SWOT analysis is a good if not excellent start for your online marketing / website analysis.
Website SWOT analysis
You can use your knowledge and experience in doing the overall SWOT analysis to prepare your website SWOT analysis.
Below are some suggestions and reminders for your reference. No matter how you do it, the bottom line I think is that at the end, you should know what are your SWOT elements. More importantly, you should know how to use and maximize your Strengths, minimize or even eliminate your Weaknesses, make the most use of your Opportunities, and defend against your Threats to achieve your goals effectively and efficiently.