How to use MS Excel conditional formatting to change text/background colors of cells automatically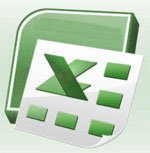 When doing some Excel-based marketing report, whether it's web analytic report or sales related report, most of the times, I used some conditional formatting to automatically highlight cells that meet certain criteria such as highlighting cells of under-performing or over-performing shops, under/over-performing regions for revenue reports; highlighting cells based on contract value; highlighting cells that have "N/A" or negative numbers; or highlighting cells of web pages that have poor performance in page visits for a certain period of time.
If your spreadsheet is short, you may not need to to perform conditional formatting since you can just manually check each cell in certain column and row; however, you shouldn't waste much time doing it, especially when Excel provides an easy way for you to do it quickly and automatically.
Conditional formatting
Conditional Formatting is a function that allow user to set "alerts" based on values contained within cells. Basically, you can set criteria for the data set and then define the format of the cells. You can define your own rule or use Excel pre-defined conditional rules.