Possible reasons why your website search ranking changes over time or even overnight.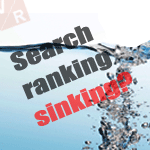 This post was originally posted several years ago and was last updated in 2017.
Search engine algorithm
Times change, people change and so does search engine algorithm. If algorithm sounds like a big word to you, as it does to me, then consider it as a giant set of complex [mathematic] formula that search engines like Google, Yahoo! or Bing develop to decide which websites are more relevant to what people search, thus will be displayed at the top, compared to all the sites indexed in their database.
If your website suddenly disappears from search results for certain keywords that it used to rank very well, chances are your site suffers from changes in search algorithm. According to a VP in charge of search quality at Google, there had been about 450 to 500 improvements or updates to the algorithm a year in the past years. The ultimate purpose is to improve the relevancy of search results. Thus, any of those 450-500 changes can easily change your website ranking.
Relevancy, relevancy and relevancy
I emphasize the term relevancy as it's the core of how search engines work. Search engines will display websites that provide more relevant content based on the users' search terms at the top of search results. This was true in the past and becomes even more true today. Now, relevancy is not limited to keyword/content relevancy; but it also encompasses the relevancy in terms of location, search habit, and device.