Get your business on Google Places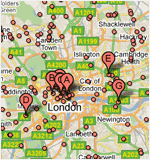 In the previous post Has Your Website Search Ranking Dropped Lately? we briefly mentioned search localization emphasizing the fact that today's search engines tend to give more priority to local search results over general search results. A search term like "London pizza" on Google UK will give pizza restaurants based in London more priority over the rest as Google displays a map with highlighted London-based pizza stores at the top of the search results. To take advantages of this change and trend in search, you can and should list or claim your business with Google Places.
If Google Places has already had your business information in its database, you'll need to claim your listing. If it has not, you'll need to add your business info. Either way, you'll benefit from getting your business listed on Google Places – Google Local Business listing.
Google Places Benefits
Your business can be listed in Google local business directory and displayed from or for local searches
You can manage your listing information including adding business description, product/service details, photos, videos, etc. You can even add special promotions and coupons to attract more customers and add a status post of 160 characters long, which can be updated as often as you want, to let people know what's going on with your business.