Different tools to help you with your competitive website data analysis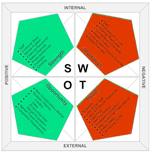 This post was originally posted several years ago and was last updated in 2017
In an earlier post SWOT analysis for your website, I mentioned the four elements of your SWOT analysis include identifying your website strength (S), uncovering your its weaknesses (W), identifying opportunities (O) for the site and uncovering threats (T) against it. While a decent web analytics application like Google Analytics can help you get insight into your own website S and W elements, what and how can you know about your competitor's web performance in order to make your SWOT analysis more complete? I emphasized "web performance" as opposed to other general information that you can obtain by browsing your competitors' websites. Below are some tools to help you get some idea about your competitors' website performance.
Let's start with the easiest one first: comparing keyword ranking
Compare your competitors' keyword ranking against your website's keyword ranking
This is perhaps the easiest and also the most accurate data you can get. All you need to do is to go to Google, Yahoo! and Bing and enter certain keywords that are important to your business/industry and see how your site is stacking up against your competitors'.

However, instead of doing this manually, there are several tools that can help you complete the task more quickly. The tool I used the most is the Firefox plug-in called Rank Checker. This tool also has an option to let you not use Google personalized search results. You can download the result in spreadsheet format and later to compare results. If you don't use FireFox or don't want to use the plug-in, Google for "keyword rank checking" or something like that.

Since my company is using Marketo (a marketing automation tool), and Marketo includes an SEO tool (powered by SEMRush), so I've also used this tool to keep track of keyword ranking for my site as well as my competitors' sites.