Simple but fundamental steps to make your website more search engine friendly and enhance its traffic and visibility.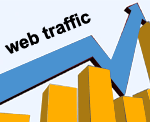 This post was originally written several years ago and was last updated in 2016
Already knew about how search engines work, here are some simple but fundamental ways to make your site more visible with better ranking and more visibility.

If your site has ranked well in the past, but gradually or suddenly lost its ranking, then check out this post Search Ranking Dropped – Why & How to Be Visible Again.
First thing first, get your website indexed by major search engines
The good news: If you have a new website, you can and should submit it to major search engines like Google, Bing, and Yahoo!. After submission, just wait for some time for their spiders to crawl and index your sites to search databases. If you're using Google and Bing webmasters tools, you'll see the indexing status in your account.
The bad news: Web spiders have the capability to crawl and index all pages within your website, and depending on the complexity of your site architecture/layout, they may miss some or many pages of your site, or sometimes your entire site. If they've missed your site or many of your pages, check to see if there're any security problems or security restrictions that prevent search to index your site. You should also check and submit/resubmit your site map inside Google & Bing webmasters tools to make sure you've included all the URLs.
Even more bad news: Your site may get read and indexed by search engines, but it may not appear in search results – not visible at all. This happens to the majority of websites, especially new ones that haven't yet had time to establish its presence and authority in the field.
The fundamental idea about how to increase your site traffic and make it more visible is to provide both your readers and search engines what they want.
Readers and spiders
Although readers and (search engine) spiders are fundamentally different – humans and machines, they have something in common while searching online: they both prefer websites with good and quality content, easy to navigate and easy to find more content. Thus, regardless of all the tips and tricks you know about SEO (search engine optimization) here and elsewhere, if you don't have good content, your site will be unlikely visible. The tips mentioned below will serve as the guideline and best practices helping you making your content stronger and better in the eye of search engines.
Search engines and text content
Search engines basically compare the TEXT [search terms, keywords, key terms] that users put in the search box against their database and give out search results. Thus, text content of your site is where you need to work on to increase your web traffic significantly. Plus, it is completely within your control, so it's where you can start first and should spend most time on.
Notes: search engines can't read text that's embedded on an image because that type of text is not text – you can't drag and select it. Text inside Flash can now be read and indexed to a certain extent but very poorly compared to html text.