How to create a clickable image map in Dreamweaver CS4/CS5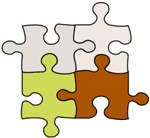 An image map or a clickable image map is a web image containing (sub-)areas that linked to different content or web pages. Each clickable area is often referred to as a hotspot. Image map is useful in presenting and organizing information where you let web visitors see the big picture and also give them the option to click around and explore the areas of interest. An example would be something like the image on the left with four distinctive areas constructed by the puzzle pieces. Each puzzle piece may represent one of your products or services or anything else.
Without using a web editor like Dreamweaver, image map is not at all easy, if not very difficult to create because we need to identify the coordinates of the points that outline around the hotspots. Here are the steps to create image map in Dreamweaver CS4 or CS5 although I believe CS3 or even CS2 would be the same.

Note: If you want to add an interactive world map, a real Google map, to your site, I have a related posted of how to create an interactive world map with mouseover data for your website. Be sure to check it out.