All Flash website — what you want may not always good for your business.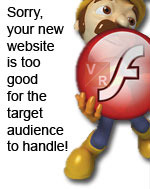 As a member in the marketing team, you may be responsible for either designing or coordinating the design process of the new website. You may want a complete Flash-based website because many of your clients have Flash websites, and you really like the interactive, animated site navigation, and the visual effects including the page transitions on each and every page. Well, that's what you like, but is it good for your online marketing and for your business as a whole?
Why Flash may be a bad choice?
While Flash with its visual effects, animation, interactivity, and strong capability for building complex application appears to be enticing, it's not the right choice for all. For example, if your company is in the construction consulting business, what your company target audience want to see most on your site may not be the interactivity or visual effects, but they want to see how and if the company's core competency – in this case construction consulting – can help them solve their construction related questions. The interactivity, animation, and visual effects seem to get in the way and don't help much with answering the questions they may have.
Although some major search engines can now read the content inside Flash to a certain extend, most of the time, Flash is like a black box where your text content is in the dark for search engines. If search engines can't see your content, they can't index it; consequently, your site won't show up in search results, and you'll have less and less business online leads. Switching from a text/html-based site to a completely Flash-based site will unlikely improve your ranking if not lowering your site ranking a great deal and negatively affect your online business.