Google Update, Search Engine Over-Optimization, Consequences and Remedies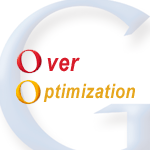 There have been so many changes in Google search algorithm since the last time I wrote this article "Search Ranking Dropped – Why & How to Be Visible Again, which primarily discussed the changes in Google algorithm and their impact on site ranking and how to get your site visible in search again. The two most talked about and most recent changes in Google's search algorithm are Google Panda and Google Penguin; both changes aimed to lower the ranking of (or to penalize, the way we talked about it) websites with low quality content or sites that don't comply with the Google's webmaster guidelines.
If you haven't done any search engine optimization (SEO) work and just now start to think about it, or want to revise your SEO strategy, my advise is not to over-optimize and and use black hat SEO techniques and defy Google's and other search engines' intelligence.
Google Panda and Google Penguin – What are they?
Google Panda, started in February 2011, is a change to Google's search ranking algorithm. Panda's main objective is to lower the search ranking of sites with low quality content, especially content farms, while increase ranking of sites with higher quality and more original content.

Google Penguin, introduced recently in April 2012, is another major change to Google's ranking algorithm. Continuing and expanding from the Panda update, Penguin aims to lower search engine ranking of websites using black-hat SEO techniques including keyword stuffing, hidden text, participating in link schemes, or using duplicate content etc. In short, Panda update will affect websites that violate the Google's Webmaster Guidelines.