Create a dropdown with Excel 2003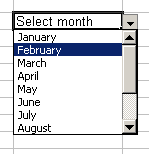 If you're using Excel 2010, click here for an updated post.
Just like a drop-down list on a web page, the drop-down list on an Excel spreadsheet presents a [limited] number of options for you to select, thus limit potential data entry errors and make the output more consistent and uniform. The drop-down list mentioned in this post has a down arrow button, but it is not the Filter/AutoFilter functionality of Excel, which can be accessed through menu Data > Filter > AutoFilter.
Excel dropdown list = dropdown + list
Excel dropdown list basically has 2 parts: the dropdown options, and the list that constitutes the options behind the scene. The list and the dropdown can be located on the same worksheet, or different worksheets, or even on different workbooks.
The way to create and use a dropdown list is that you present the dropdown to your users, but you hide the list so that the users can't access, thus can't modify the list themselves. When a cell has a dropdown list, Excel displays an arrow next to that cell when people click on/select the cell. However, if they don't select the cell, the arrow won't be visible.
Create Excel dropdown list
Here's how to create a dropdown list of months. In this example, the list and the dropdown are on different spreadsheets.