Want to Get Immediate Results for Your Polling Questions at an Event? Try these…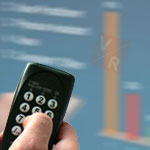 Turning Technologies
This company/technology made me think about writing this post because it was quite innovative and fun having a live polling session and real-time results at a conference. While writing this post, I heard about another company offering similar polling capability, so here you go and hope it'll spice up your events and make them a bit more memorable.
Turning Technologies uses proprietary polling devices and software which integrates 100% into MS PowerPoint and allows audiences to participate in presentations by submitting responses using a keypad or other hand-held/computer devices.
At my company's event, we used keypads; thus we gave each attendee a keypad – Responsecard, and we remembered to get them all back as well :p. You can either rent the keypads if you only use them once in a while or buy them if you use them more often. When the presentation reached the polling slide with polling questions, we asked the audience to vote by using the keypads, and with a click of the button, the voting results displayed immediately in real time in the forms of numbers, charts or both. How exciting!