Create a dropdown with Excel 2003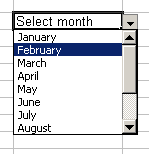 If you're using Excel 2010, click here for an updated post.
Just like a drop-down list on a web page, the drop-down list on an Excel spreadsheet presents a [limited] number of options for you to select, thus limit potential data entry errors and make the output more consistent and uniform. The drop-down list mentioned in this post has a down arrow button, but it is not the Filter/AutoFilter functionality of Excel, which can be accessed through menu Data > Filter > AutoFilter. Read more...