Switching to HTML email? Know why people love and hate HTML enabled emails, and what can be done to have a smooth transition.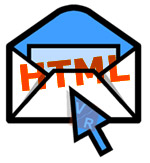 HTML email as its name implied is an email written or coded with HTML as opposed to a plain text email. There's one thing that should be clarified before we go on: today, most emails are HTML emails; if you color or bold your text, insert images in your email, more likely you're sending an HTML email. However, that's not what is meant by "HTML email" or "HTML enabled email" in this article. So what do we mean by sending an HTML email? Roughly, we mean to send a web page or a well designed and well coded HTML page as an email.
We can view HTML email with Outlook and other later versions of email programs such as Lotus Notes, ThunderBird, Hotmail, Yahoo!, or Gmail… because the new email softwares/applications have a built-in HTML reader — which in many ways like a starter version of a web browser like Internet Explorer or FireFox…. That's why in the past HTML email was not so common as today because email programs were not consistently equipped with the said HTML reader.
The good – Why people love HTML emails
HTML email = HTML + email in which the HTML part contributes to significantly improving the visual presentation [layout, imagery, style, colors...] especially the call-to-action messages of the email resulting in a more effective email campaign with higher click through and conversion rates.
That's about it for the benefits of HTML email. Pretty short but that's the core of every marketing and email campaign: better layout, more interesting presentation, and higher click through rate and conversion rate.
The bad and the ugly – Why people hate HTML emails
Although HTML email sounds enticing, it has multiple technical shortcomings that make many stay away from it.
HTML emails = spam emails: Almost all if not all spam emails are HTML enabled emails. Because of that reality, HTML emails are often treated as spams and considered dangerous by Corporate ITs and may be filtered before even reaching the end-users' mailboxes. If you send out an HTML email campaign blast to your clients, chances are your emails may end up somewhere in the junk mail folders or get deleted without being viewed by your clients.


Outlook, Gmail, Hotmail… don't display images automatically: For security purpose, by default MS Outlook even Gmail and Hotmail don't download and display images automatically. Thus, if you send an HTML email to a client whose email setting doesn't support automatic image download, your email will probably look very very ugly with broken image links.


Trade-off between text and graphics: Because the capability of interpreting HTML codes in Outlook and all other email softwares has always been very very basic [compared to a web browser], there's always a trade-off between text content and graphic presentation when creating HTML email. If you go for more graphics, then your email may look better, but those who haven't enabled to display images automatically won't see your graphic content. If you go for more text content, then your email will be less graphical and less attractive, but the text content can be viewed on almost every client computer.


Different HTML readers interpret HTML codes differently: Like web browsers, different HTML readers [like Outlook and Lotus Notes] and different versions of the same HTML reader [like Outlook 2003 and Outlook 2007] interpret HTML codes differently if not a lot differently. This presents lots of difficulty in creating a one size fit all HTML email. The safest way to go is to minimize the use of CSS and use the TABLE layout to keep the structure of the email intact.


Preparation before sending out HTML emails
To ensure the good and minimize the effects of the bad and the ugly, there're always things that you can prepare prior to sending out your first HTML email.
Explain about HTML email to your managers: If need to, you should explain in details about the pros and cons of HTML email to your managers and everybody involved. The purpose is to adjust their expectation, and let them know beforehand of any potential issues.


Notify your clients about the future switch form text to HTML email: Let your clients know about the future changes so that they may work with their IT people to make necessary changes/arrangements. Also, this notification will possibly give them some sort of an alert before emptying their junk mail folders. If possible, give your clients an instruction on how to display images in the emails and all of the related technical stuff.


Equip yourself with a good text editor or even better, a good web editor: Notepad is a text editor but not a good one. A good text editor is the one that has the capability to color-code your codes and your text content, making it easier for you to update, build or more exactly to hand-code your web page/email. A web editor, usually known as WYSIWYG — What You See Is What You Get — is extremely helpful if you are not familiar with hand-coding. Good web editors come at a price like Adobe Dreamweaver, or Microsoft FrontPage… There're also free web editors out there that may be worth to give a try.


Always include an option for viewers to view the email online: Due to technical restrictions, many will not be able to see your HTML email in full, so always include a link like "Having trouble viewing this email? Click here to view it online" or "Click here to see images in this email" at the top of your HTML email. When people click on that link, they'll see a web page identical to the HTML email, but this time they see it with their browser, so everything should display alright.


Research about support levels of different email programs/applications in terms of HTML and CSS: Eudora didn't support HTML email while Lotus Notes barely supports CSS in HTML email… Those are the things that you should be aware of while creating your HTML email.


Send test emails: Gather a list of testers — preferably those who are using different email programs/applications; send them a test; ask them for a screenshot of the email to see if everything displays as you wanted; fix any errors; send another test before sending out the actual email.
Enough for the overview, see how to create HTML email with MS Outlook.
This post may also be helpful Most popular email clients

Love it or hate it? Let me know what you think through the comment box below.
Related Posts: