Create custom colors and apply them to charts and everything else
with Excel 2010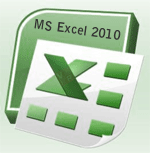 My company has just switched from Microsoft Office 2003 to MS Office 2010, and to my surprise, almost everything in the main menu of MS Excel was changed in 2010 version. That makes everything seem harder and more importantly makes my other post MS Excel 2003 Custom Colors outdated although it's still valid and useful for those who are still using MS Excel 2003.
Here's the update for MS Excel 2010:
Excel 2010 provides a bunch of built-in color palettes, but you can also create a custom palette from scratch and then apply your new color scheme to charts, tables or whatever automatically. The process only take minutes but would save you lots of time later on, and it's one of the things that possibly makes Excel 2010 more… bearable.
Create a custom color theme/palette
Go to Page Layout tab: Look at Themes group, which is by default the first group; click on the Colors drop-down button; then click on Create New Theme Colors at the very bottom.




In the Create New Theme Colors window: Select the colors that you want to change. You can change the color by using the picker or by using the More Colors option then entering the RGB values.




After changing all colors, you can give your custom palette a name, then hit OK to complete. Your custom color theme/palette will be displayed at the top of the Colors drop-down list.
Automatically apply color theme to charts
Even with your custom palette in place, if you haven't clicked to select your custom palette in the Colors drop-down list, your chart colors won't be automatically changed to your new colors. To tell Excel to apply the new colors to your charts, go to the Page Layout tab, click on Colors drop-down list, then select your custom color palette. Your chart colors will be changed immediately before your eyes.
Add Gallery to Quick Access Toolbar
If you use the new custom colors a lot, I recommend you pin them on to the Quick Access Toolbar. To do this, you just need to right click on your custom color palette and click on Add Gallery to Quick Access Toolbar, and your colors will be added to the very top of Excel ribbon menus for easy access.
Hope this helps!
Related Posts: