Free photo editors including both photo editing softwares and
photo editing online applications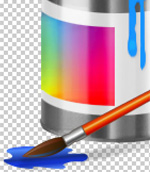 If you have a high resolution stock image or an image from your digital camera and wonder how to put it on the web with smaller size, then you need to use a photo editing software/application allowing you to crop, resize, and do some other photo adjustment/enhancement. Here are some working, reliable and completely free image editing software and image editing web-based application.
Things worth considering while deciding which freewares to use: who owns/creates the software; whether it's still being upgraded and supported? the size of the installation file? the functionality? other users' ratings…
List of free image editing softwares mentioned in this article:
1. Google Picasa
2. FastStone Photo Resizer
3. IrfanView Photo Viewer, Editor

or explore Online photo editors
1 – Google Picasa – Great for organizing images and quickly creating online photo albums
As of December 2009, Picasa has version 3, and it's about 9.5MB to download and install.
Picasa received 5-star ratings by CNET Editor's review and 4-star ratings by users at Download.com

More than a user-friendly photo editing software, Picasa makes it fast and easy to crop, remove red eye, fix the contrast and color, enhance your digital pictures, write captions that stay with the photo, and lots of ready-to-use effects. Your photo will be ready for printing or sharing online in minutes. Also, since it's from Google, Picasa lets you search, rate, create albums as well as password-protect your photos.
Picasa is great if you want to crop your photos, add comments, and post them to your blog or online photo album since everything is pre-configured and ready for use in seconds.
For example, to crop an image, Picasa give you several pre-configured options as illustrated in the screenshot below. That makes it really fast and convenient.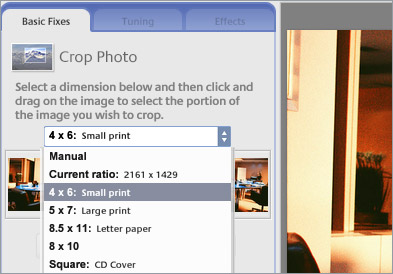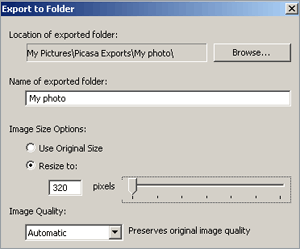 However, Picasa lacks the accuracy and flexibility you usually need for web design and online image posting. For example, the re-sizing functionality is not very straight forward. In fact, if you want to resize your image, you've got to use menu File/Export Picture to Folder, then you can specify the width of your image to 320px, 480px, 640px… with a slider [see above screenshot]. What if you want to re-size your photo to 450px? No, you can't!
The reason that Picasa gets introduced here because it is a really great tool if you use it to do what it's supposed to — to quickly and easily manage/organize images as well as make them available for print, sharing online, and it's continuously improved by Google
This is the main website for Picasa from Google: http://picasa.google.com/
Want to read more about Picasa? Here's the link to a blog post from Google Blogger Buzz
2 – FastStone Photo Resizer – Resize, crop to any sizes and more
As of October 9, 2008, FastStone Photo Resizer has version 2.7 and about 1.3MB to download and install.
FastStone Photo Resizer received 5-star ratings by CNET Editor's review and 4.5-star ratings by users at Download.com
FastStone Photo Resizer is an image converter and resizer to convert, rename, resize, crop, rotate, add text and watermarks… to images in a quick and easy batch mode. That means you can avoid doing the same thing over and over again for each and individual images; you can mass change their names or mass convert images… This version also lets you preview your image before applying the effect.
Below is how the interface looks. All major functionality is behind the "Advanced Options" button. Once you click that button, you'll see a dialog box with different tabs such as resize, rotate, crop… FastStone Photo Resizer is also available as a portable software letting you carry it in your flash drive and use it whenever you want to.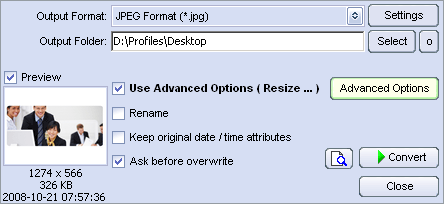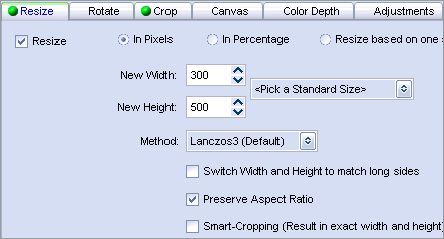 The freeware lets you open, edit and convert [individually or in batch mode] the most popular image types such as JPG, GIF, PNG, TIFF…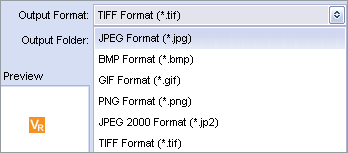 FastStone main website:www.FastStone.org
FastStone Photo Resizer web page:FastStone Photo Resizer
FastStone Photo Resizer at Download.com: Download.com
Remember, if you think it's good, download it now because chances are it's not going to be free in the future. That already happened with other FastStone softwares.
3 – IrfanView – View media files, resize add effects to images
As of December 2008, IrfanView has version 4.22 and about 1.3MB to download and install.
IrfanView's received 4-star ratings by CNET Editor's review and 4-star ratings by users at Download.com
Although IrfanView is not known as a strong image editing software, it's a wonderful image viewer and converter supporting many different image and media file types. Here's the short list of features provided by this freeware: many supported file formats; paint option such as to draw lines, circles, arrows…; image resize capability; multipage TIF editing; batch conversion and renaming; cut, crop, copy, and paste images; multiple image effects (sharpen, blur, filter factory, filters unlimited, etc.); multimedia player; create/save slideshow as EXE/SCR or burn it to CD…
IrfanView supports numerous image file types from the most popular supported by common image editing softwares such as .tif, .jpg, .gif, .png, .bmp to the less common types such as Photoshop .psd, Windows icon .ico, PDF, Windows Metafile format WMF.
You can use this freeware to create a favicon .ICO file for your website. You can even open a Photoshop file, then copy a part and paste that part to a new file. All can be done in IrfanView. If you know the software well enough, you'll realize that you can do many many things with it.
Here's how the interface looks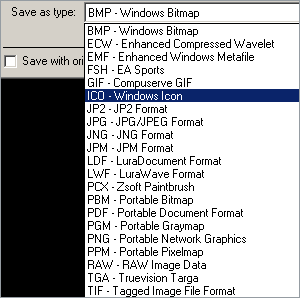 IrfanView main website: www.irfanview.com
IrfanView at Download.com: Download.com
Related Posts: